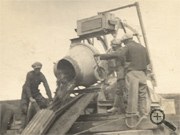 Working together.
Guestbook
Please
Read and sign the new Bodie Creek Bridge Guestbook.

You can read earlier messages in the guestbook archive.

Alternatively, please use the Contact page to send me feedback.
Contact me
I would be grateful for any feedback, suggestions or additional information you can give me. Similarly if you have any links you would like me to include in (or remove from) this site please let me know.
Note: Remove the spaces from this e-mail address.
This is a personal website, so much of the information here is subjective. Opinions expressed are my own. This is why I have asserted my copyright over the content and coding of this site. However, I hope the material is of interest, so if you would like to reuse anything from my website, please just ask for permission. I am unlikely to refuse any reasonable request.
If I have made any factual errors, got names, dates or places wrong, then please let me know. You can e-mail me at bodiecreekbridge @ gmail.com (remove the spaces from this e-mail address).
Anonymous feedback form
Alternatively, you can use this simple form to send me your comments.
Disclaimer
While I have endeavoured to ensure the accuracy of this site, no responsibility can be accepted for any historical or factual inaccuracies. I will not accept liability however caused arising from any error or inaccuracy in the information contained within these web pages.
Copyright © 2015 Stephen Peters | All rights reserved | e-mail | Last updated 31/01/2015