Charles Peters with his wife Meggie and children 'Vina' and 'Pete'.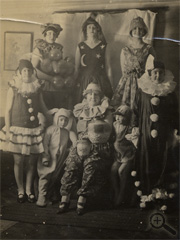 Meggie with 'Vina', 'Pete' and friends in costume
About Charles P. Peters
Charles Philip Peters was born in 1889, in Portsmouth, the son of a baker. He was brought up by an aunt in West Hartlepool and trained as a marine engineer. He joined the Merchant Navy and served in the South Atlantic on a collier ship during the Great War. He was on a mission to take coal to the Pacific Fleet via the Panama Canal, but they were diverted to the South Atlantic since the fleet were now at the Falkland Islands. On calling in at Port Stanley he was offered a job as Chief Engineer with the Falkland Island Company (FIC). His role would be to inspect ships for seaworthiness before they made the perilous journey round Cape Horn.
The Maritime Collections page of the Falklands Museum website states:
"The Falkland Islands have a rich maritime heritage, largely because of our location -Cape Horn provided an essential route between the Pacific and Atlantic oceans prior to the building of the Panama Canal (opened in 1914) and the Falklands were well-placed to offer shelter, supplies and repairs to passing ships."
Before he could take the job he had to complete his tour with his ship, so he returned to England where he married Meggie Osbon in 1916. She was a qualified seamstress, having been apprenticed as a blouse-maker. Six weeks later, in the middle of the Great War, the newly-weds sailed back to the Falkland Islands on a merchant ship, the RMS Oronsa, at a time when U-boats were patrolling the Altantic. They arrived safely and lived in Stanley. The ship however was torpedoed and sunk in 1918, according to the Wreck website.
Charles loved jazz and played a Stroh violin with the Stanley Syncopators.

The Stanley Syncopators
They had two children Doris Malvina (1920) and Harry Osbon (1922). When the children grew up Doris preferred to be known as Vina, and Harry as Pete, so I shall use those names on this website, even though I knew them as Auntie Vina and Dad respectively. Meggie used to make costumes for them and their friends whenver they had fancy dress parties
I never met my Granddad. He died in 1946, several years before I was born, after a long battle against kidney problems.
My Grandfather was a keen photographer and had several high quality cameras. He used a Contessa Nettel quarter plate camera to take these old black and white photos which I have used on this site. It was probably the Alino model. Over time they have faded to more of a sepia appearance. You can see the full set in the photo gallery. I make no apologies for the damaged appearance of these pictures. They are from an old family album and show signs of deterioration over the years. It would take a professional effort to restore them digitally but by using the original scanned images they retain much of their charm. What has astounded me is the level of detail that has been revealed in the scanned images which was not visible to the naked eye - for example, it is possible to read the lettering on the stone breaker, but it was far too small to interpret on the original photo.